Death by Chocolate Reviewed by Burn Blog
Mark Masker was kind enough to review our sauce for the Burn Blog. His review can be found below or follow this link for the review and his recipe for a Spicy Honey Chicken Sandwich!
Black Eyed Susan's Sauce Reviewed
Black Eyed Susan Spice Co's Death by Chocolate hot sauce line packs a solid punch. It's centered around the chocolate habanero, with apple, peach, garlic, and cocoa all playing a part in a flavor profile that's sweet and sour with a subtle chocolate tone to it. What is not is a weak little sauce line for snowflake people with manbuns who can't stop saying, "It's about the journey, not the destination" while sipping a green maca crappaccino extra whip, whose phones are much smarter than they are.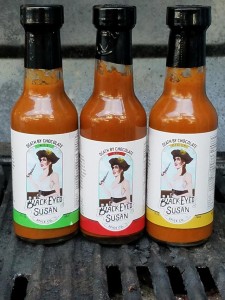 That's oldguyspeak for "Death by Chocolate has a good flavor but its heat isn't for the timid." If you're entertaining a group of people whose general idea of spicy falls on the milder side, Death by Chocolate may be a bit of a shock for them; the mild version of the sauce has a medium-sized kick because the chocolate habanero pepper, while not a Ghost or Reaper, still isn't anybody's bitch. What these sauces are is a blend of sweet and sour with a touch of cocoa followed by a good dose of heat. After I tasted it, I thought I'd try it out on something the local fast fooderies around here have been pimping for a while in a watered-down form: the hot chicken sandwich.
I made up a batch of fried chicken and coated it with a blend of honey and Death by Chocolate for stickiness, then tried each one as a sandwich with mayo and pickles on it. The sauce goes quite well with honey and each successively hotter sandwich had a hotter kick, as you'd expect. I was pretty happy with the results but I think I'd have been even more pleased had I tossed fried or grilled wings with the honey/sauce blend. But that's on me. The recipe is below. You can pick up a bottle or two or three from Black Eyed Susan right here.
---
---